This is not a formal CV, just a short summary about what I've been doing lately, and what kind of person I am.


I'm an IT-consultant at HiQ, which is a great company if I may say so, although right now I'm on parental leave (=hardworking Home Manager ;o)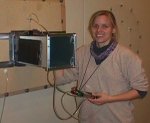 Before that I was a design engineer at Scania, developing exhaust aftertreatment systems for trucks, thus saving the world from noise and evil exhaust gases!

Another fun place was Goyada, a company that develops and hosts mobile services. There I worked with testing, quality assurance, and debugging together with the developers.
I have also worked as teacher at a software consulting company, worked with CAD at an architect office, held evening navigation courses, built a wind-tunnel for FOI (the Swedish defence research agency), created technical database documentation and performed acoustic tests at FMV (the Swedish military defence agency).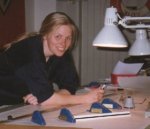 I've studied vehicle engineering at the Royal Institute of Technology in Stockholm. I completed my Master Thesis 'Studying the Acoustic Parameters of Micro-slotted Panels' at MWL (The Marcus Wallenberg Laboratory for Sound and Vibration Research). The study was mainly an evaluation of the Acustimet, a micro-slotted panel from Sontech, and its usefulness in duct silencing.
Originally, I was 'only' planning to graduate from the naval architect program but I side-stepped into the fascinating world of sound and vibrations, and therefore ended up taking a degree in acoustics as well.
Before that I studied mathematics and economics in Linköping, preceded by technical high school in Dalarna where I was raised.
On my free time I enjoy various water sports (windsurfing, sailing, paddling), skiing, and teaching others to do the same. I travel frequently and play several musical instruments with varying degrees of skill, and I'm involved in several bands and orchestras.