Day 1 - Jan 19
After a dramatic departure (courtesy of Mr. T.) a dozen skigangers were finally off! But what happened? Well, at the same time as the rest of the skigang was sitting on busses on the way to the airport, the most experienced traveller of us all (we will call him "Mr T" to protect his identity) was on his way home to start packing. This was 2 hours before the plane departure. Then one hour later, when the skigang was sitting at cafe at the airport and getting ready to board the plane, Mr T called and said that he was on his way.... HOME.... again because he had forgot his passport. A few minutes later we called him again to point out the subtle fact that he doesn't NEED a passport to fly to France. Of course, by then he was already at home and getting ready to jump into his car again. Then we pointed out that ... well... maybe its smarter to take a TAXI so that you don't have to worry about parking at the airport. But then, of course, it was too late to get a taxi (especially one that would be willing to drive at the speed necessary to catch the plane...)

Anyway to make a long story short, he did make it to the plane - with a margin of about 30 seconds. A loud (and slightly sarcastic) applaud greeted him as he entered the plane!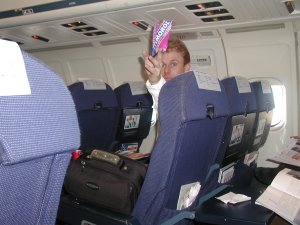 Here's Mr T trying to hide behind a Stimorol package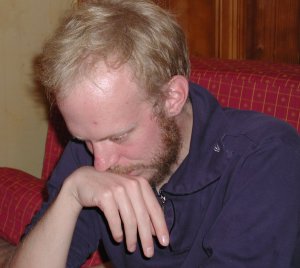 Due to the political turmoil in India, our dear friend Mr O had to cancel his journey to the Far East and decided to gatecrash our apartment instead. Here he is, deep in thought over a game of Chinese checkers.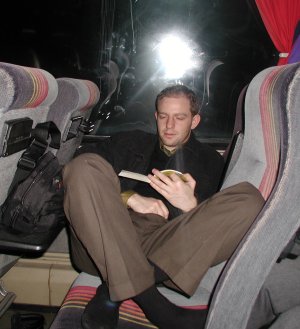 Fredrik was rather worried about the fact that we would get an extra guest (the shaggy Mr.O) in our apartment, and how we would fit him when there were only 13 beds... so on the bus from the airport he was reading a book by Nietzche about the best ways of adapting to situations like these... and suddenly BZAAP a flash of insight appeared above his head! Look below and you'll see his BRILLIANT idea to save space: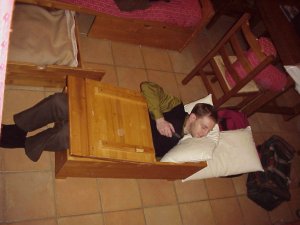 Now we only need a saw for his legs...

---