Day 7 - Jan 25
The most superfabulous extraterrestrial fantastic day so far! Finally the saying 'om det snöar hela natten och spricker upp imorgon bitti, det vore perfekt' came true (see day 4) and after an impatient quick breakfast the skigang searched, and found POWDER!!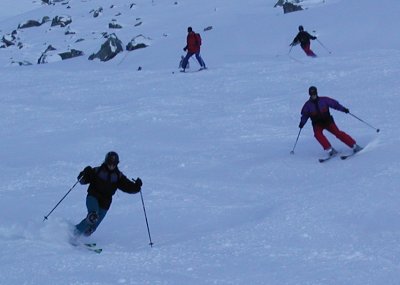 This is on-pist but it was pretty much the same offpist, only better...
Here's Henrik and Johan pist off. Many beautiful vurps in deep schnee,
some of them documented (here's Sia and Henrik) the latter ending like this:
Note: The videos works best with QuickTime. If any of the videos are uncooperative, download them (rightclick-save...) and run them locally on your computer!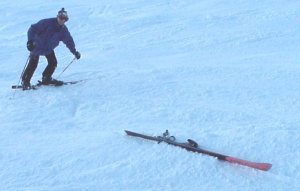 No, Henrik is NOT todays vurpmaister. It is... *drumroll* ... TRRRRRRKKKK!!!! (eh, Kristian, that is) unfortunately undocumented but three reliable witnesses describes it like this:
After starting off very elegant on an offpist run he noticed - too late - the big snowcovered rock lurking in the middle of his track. Realizing that he wouldn't be able to evade it, he prepared himself for a jump. It might have worked. Leaving one ski on the rock, he sprinted 4 meters in slowmotion through the air waving his arms frantically and ended the beautiful jump with a head-plant in the snow. This is probably the most efficient way to earn instant vurpmaistership. When he got up he was indistinguishable from a snowman...
Just came back from a nice dinner at Tango, tasted good but took a looong time to get the food so when it came we were almost too tired to eat it. Half of us (the ones nearest the camera below) went home to bed, the others are still partying as we write this....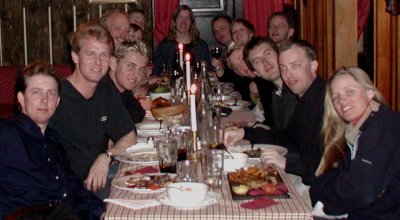 Here's another of our boring group pictures...
but we like them, ok? And it's our page, right?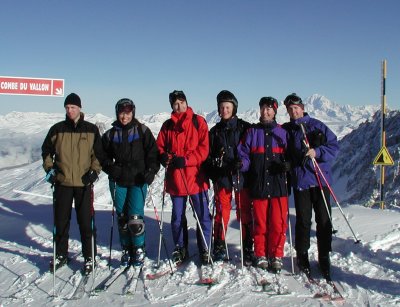 Oh, while you're waiting for more pictures and videos here's another cineatic masterpiece, a bit lighter entertainment than yesterday's Film Noir; this is Film Blanc! Let us introduce: The White Movie! A must-see!
Note: Works best with QuickTime. If the video is uncooperative, download it (rightclick-save...) and run it locally over with your car!
Talking about white stuff, here's Mont Blanc!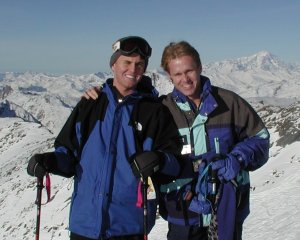 - you might spot two Tumba brothers in front.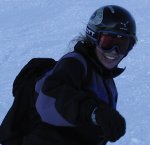 And here's one of the Helmuts which leads us to a question to the reader's:
Why is Helmut 1 smiling? Is it because she:
1) is about to spray the photographer with snow
2) just made up the new sport ski-boxing
3) there's a caaaaameeeraaaa there
4) doesn't know she will sprain her ancle by the end of the day
5) something else
mail your answer and you might win a free lunch (we brought a doggy-bag from the restaurant)
Gooodnight!
---