Day 5 - Jan 23
Everybody is pretty much zonked so this page probably won't be nearly as energetic as yesterday.

We just finished another great dinner. Much better than the lunch some people had...

Sophia (fit for fight again), Henrik, Anders, and Johan went off on a great expedition to find the end of the world which, according to the pistmap, was near Courchevel. They travelled left (yes, left is a direction. when you skiing you don't measure directions in north/south/east/west - you measure in "left" and "right" on the pist map). It was an adventure. One of the things they discovered was that food is VERY expensive on the left side of the world. VERY expensive. 100g kaviar for 350 euro. Dinner started at around 25 euro. Soup for 13 euro. French fries for 10 euro (and this is France after all!)

Needless to say they didn't buy lunch. Instead they ate Sophia's emergency food which made a nice two course lunch for four people inside an egglift.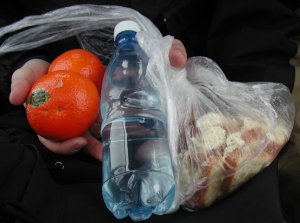 The expedition did discover the end of the world after a dramatic journey! Here's how it looks: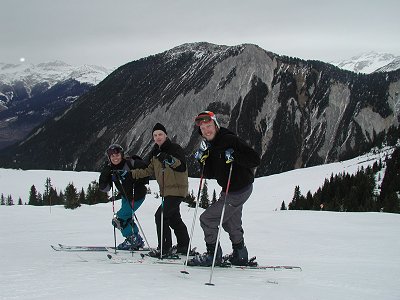 Here you can hear the brave cameraman Henrik fighting the off-button
with encouraging comments from the unwilling statists ('throw that video away')
(...later edited into a brief telemark instruction video)
Note: The videos works best with QuickTime. If any of the videos are uncooperative, download them (rightclick-save...) and run them locally on your computer!
Another expedition consisted of Fredrik, Sofia, Johanna, Mårten and Karin. Those people did NOT want to go all the way to Courchevel since they were fed up with spending the whole day in long lifts. Their goal was the summit of Cime de Caron for the morning and then continuing to Glacier. The avoiding-skilift-mission started successfully by standing in line half an hour to get onto the lift to Cime de Caron.
Finally on Cime de Caron the five brave skiers enjoyed a terriffic view of amongst others Mt Blanc. The slope was not bad at all, but there were too many people lying around in it so the group decided to head for the favourite, the GLACIER.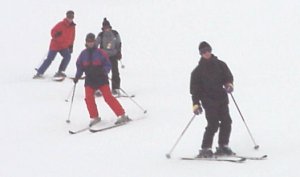 Four brave skiers conquering Combe de Caron.
In Le Glacier Karin finally found her sister Monika who happens to stay in Meribel and ski in the same area this week. Karin and Monika wanted to show off by doing parallel turns. According to the amused spectators it looked pretty good...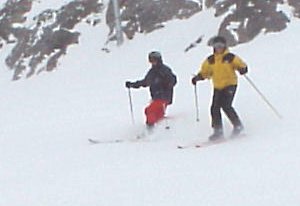 ...until the sisters got a little too close and hooked into each other. The result was a big snowball. (Cameraman Sofia deeply regrets not catching this phenomena of sisterly love on film.) Nevertheless this makes a candidate for the wurpmeister of the day.
After one run in the Glacier the anti-lift expedition entered the local cottage for a nowadays known as cheap lunch (see above).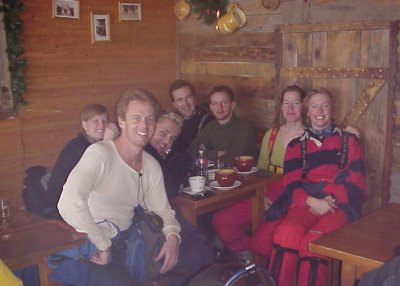 As a pleasant surprise the Tumba brothers showed up and joined the expedition. But after lunch the weather looked like the background of this page, and the Glacier lift was stopped. Thus the expedition ended with the following facit:
lifts: 6, runs 4. Oh well, the snow was nice!
Karin continued a few more runs with her sister and at 4 the sun showed through the clouds, providing a wonderful background for a picture with the Schildknecht-sisters (pronounce that if you can!).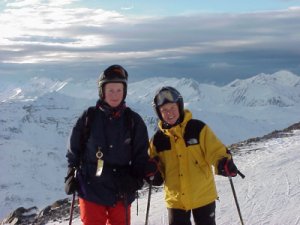 On the last run, nature showed up with a couple of impressive sceneries: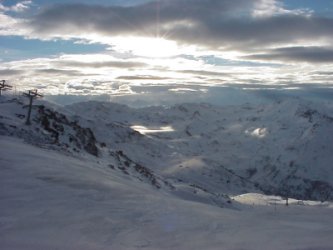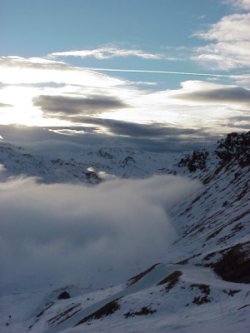 Johanna, once more: Om det nu snöar inatt och så spricker det upp i morgon bitti, det vore ju perfekt!
Note: Kristian suffered from a minor concussion after a wurp yesterday and didn't take part in any of the expeditions today. That totally qualifies him for yesterdays wurpmeister title
S.Tumba: Well... Hmm... I haven't really added much to these pages yet, at least not text-wise. The excuse I have for that is that full days of skiing really leaves my brain (and body) totally wasted (Editor's note: Yeah, yeah, yeah, it's the skiing wasting his brain). Val Thorens is quite an awesome place, though unfortunately this year haven't been all too snow generous. BUT... looking out the window right now I can see that the weather gods seem to change the course of events... IT'S SNOWING!!!! YEEEEHAAA!!!!

---