Jour 5
Beautiful weather!!!! Luckily we sucked out every last minute of it, because after lunch we got the good ol' snow and wind back again. But by then we had had so much fantastic skiing that it didn't really matter. Mattias and Anna went off to Les Gets while the rest of us skiied in Avoriaz, most of us hanging around a really nice area with mixed slopes (all black on the map, but in reality we would say it was mixed red/black).

Some of us even braved Le Mur, the legendary murderous killer hill that everyone talks about. And we were stupid enough to do it in the middle of the snow chaos, with almost no visibility. Maybe thats why we could do it, we couldn't see enough of the hill to get scared by it.

And what did we find in the middle of Le Mur? A mouse! What? Yes, a mouse! A litte tiny mouse that, when he saw us, scurried away and dug his head like an ostrich into the snow, butt and tail sticking out and quivering. Tumba was cruel brave enough to pick him up by his tail. After trying to communicate with him, asking what a little mouse was doing on a big bad hill like Le Mur, he (Stefan, not the mouse) dug a slightly deeper hole for him and tried to put him back, in a gentlemanlike fashion. The mouse, however, was offended and quickly skiied down the 45 degree slope.

The visibility got worse and worse, and soon the skigang got effectively divided up into those that had good skiglasses, and those who fumbled around like blind mice. It turned that Sia and Henrik probably had the worst glasses, because they managed to actually run off the slope and didn't notice it until they were lost in deep snow between two slopes. Luckily they found their way back to the pist guided by enthusiastic calls from their friends. We all got home safely but it was a bit dramatic, at least for the blind ones...

Another funny thing happened, rumors say. Anders was found in downhill skiing posture on the crest of a hill, not realizing that he had actually come to a complete halt. That says something about the visibility and the wind.

Meanwhile, Mattias and Anna didn't see Mont Blanc due to the no-longer-so-beautiful weather. So no romantic picture there. But they did get this one: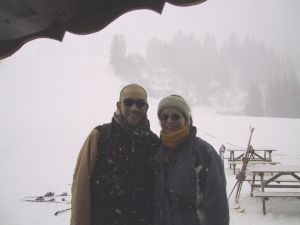 Do you see Mont Blanc somewhere there in the background? If you do, you can win the other half of the matches (see previous page).
Now that we're into couple pictures, here's Henrik and Sia on another mountain overlooking Avoriaz village.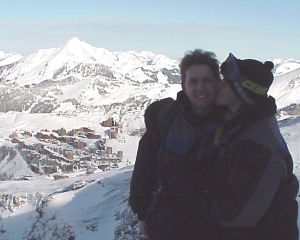 No, that's not Mont Blanc in the background.
And here we have the third couple in the skigang relaxing after a hard ski day: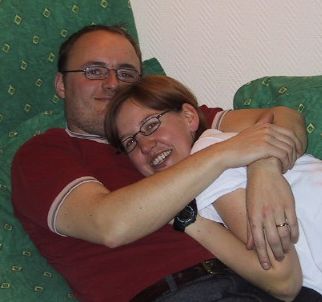 Can you spot Mont Blanc here somewhere? Then stop eating those pills!
OK, no more couple pictures, we promise. In fact, here's a larger part of the skigang standing on that same spot above Avoriaz village (before the bad weather came):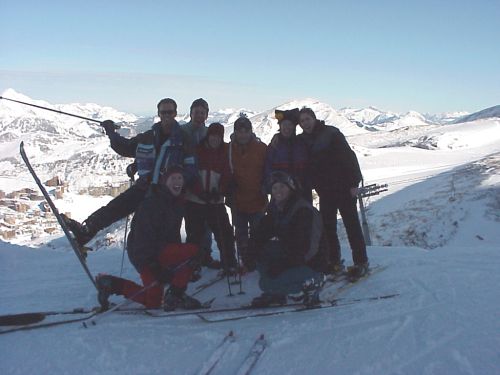 After this picture we were going to take a portrait of Stefan and asked him to step back and.... hehe... he fell for it!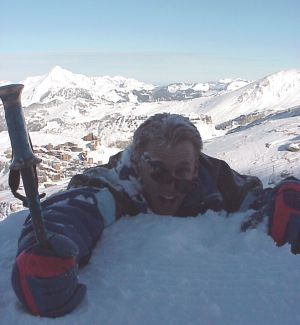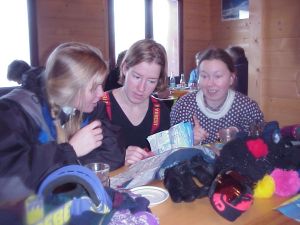 Three ladies deciding how to lose all the other guys.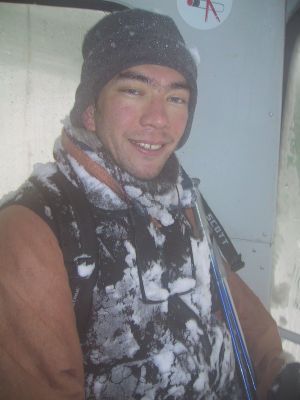 Genghis Khan!
Oh yeah, La Vurpeuse (previously known as El Vurpo, Wurpmeister, and Vingelputt). If you can be bothered to download it (its worth it!), you'll see today's winner in action (600K). To protect Karin's identity we will call her.... Carinne.
By the way, ever wonder why we're so slow at uploading these pages? Well, we had some problems getting internet to work, so we had to pull our own wires from Sweden. It was a bit complicated but it worked out, here is the final result. Not pretty, but functional.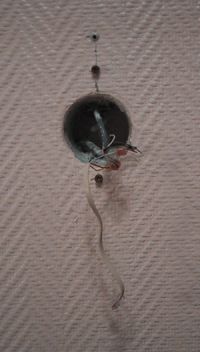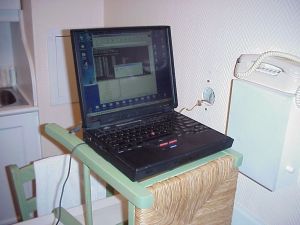 This might look like a joke, but this is actually the remains of the telephone jack... we're hoping to be able to make it look normal before checking out from the hotel...
---
---