Jour 6
(Editor's note - this is being written at 2 am on friday night. Everyone is sleeping except Stefan, Anders, and Henrik who are being heroic and making this page. Actually Anders just dropped off.... We just came back from the best gig at place called... uh.... something. The band played funk and we all went wild. Before that (yes, we are doing this backwards now) we all had a delicious fondue dinner at a nice restaurant. All in all a nice way to spend the last evening together).

Today was fantastic!!! Probably the best day of skiing, lots of jumping, at least for some of us. We managed, as so many times before, to find the best slopes when our trip is nearing its end. There were strong winds and clouds in many places but we managed to find a sunny and calm mountain slope and hung out there all day. A large mountain peak sliced the clouds in two, leaving clear blue skies above our heads.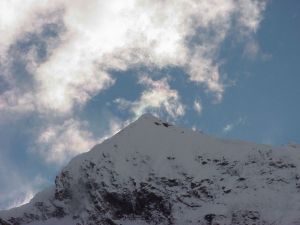 One of the highlights of the day was when we found this 5 meter drop landing in soft and fluffy snow, a must for us adventurers. Here today's La Vurpeur (previously known as El Vurpo, Wurpmeister, and Vingelputt (in case you didn't read yesterday)) revealed himself.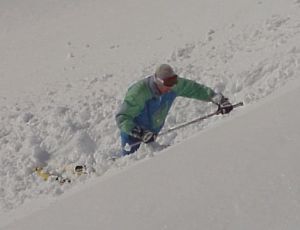 (click picture for video - 1.2mb and make sure your speakers are nice and loud)
Here is the aftermath (400k) of him looking for his pole, which was completely buried in the deep snow.
When Pelle did the same jump (460k) he caused a small avalanche, which incidently revealed Ander's pole, which he had already given up looking for!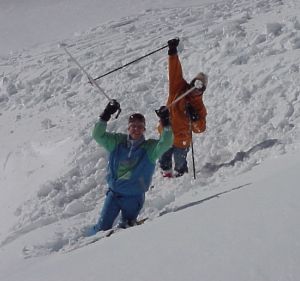 If you're not tired of downloading videos, here is Stefan's jump (720k) as well! We had alot of fun with this particular jump. During the afternoon we found a whole slope dedicated to jumps and other fun things. We think this is a slope specifically designed for snowboarders but what the hell, we want to have some fun too! The fact that the snow was deep and powdery didn't make things worse either.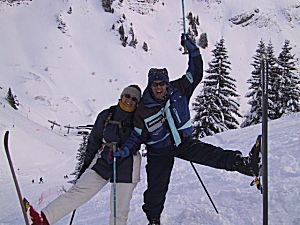 Stefan and Anna having a blast.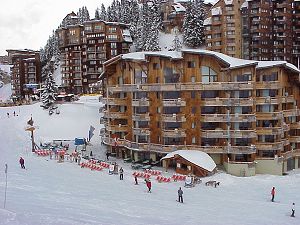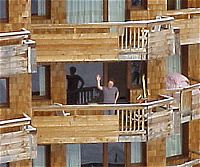 This is where we live, conveniently located at the bottom of the village next to all the lifts.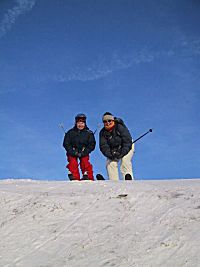 Viveka, Anna, blue skies, and white snow.


Avoriaz and the surrounding mountains.
By the way, remember we mentioned "Le Mur" yesterday? Here is a web page describing this slope and some other well known evil pists. While we're at it (this always happens, just when we think we are finished we come up with all this stupid little addendums) yesterday Stefan had some trouble with his skiis causing one to fly off in the middle Le Mur. Needless to say it was a bad place to fall, the ski flew down the slope like a ICBM missile and Stefan had to slide down on his butt to pick it up.
Oh yeah, another thing. Just kidding there is no other thing. Goodnight!!!
---